The QHV car lift is specifically designed for the transportation of vehicles within apartment buildings, offices, public car parks and any other place where space is a premium.
With extra safety features including vehicles centring and the optional switched double central panel or emergency motor-pump group (for use if the main drive group breaks down), the QHV car lift is the ideal solution for high volume vehicle lifting.
Car
Walls in steel sheet metal with painted finishes (standard colour RAL 7035).
Doors with painted finishes.
Standard floor made from painted highgrip treadplate or aluminium diamond plate.
Downlight lamps or LED downlights.
Standard aluminium or reinforced aluminium sill.
Protection wooden bumpers.
Ventilation, exhaust ventilation (optional) and trap door in cabin roof (optional).
Remote controls (optional).
Traffic light for smoother control of incoming and outgoing traffic (optional).
Operating panel on stainless steel plate, including one in each entrance zone.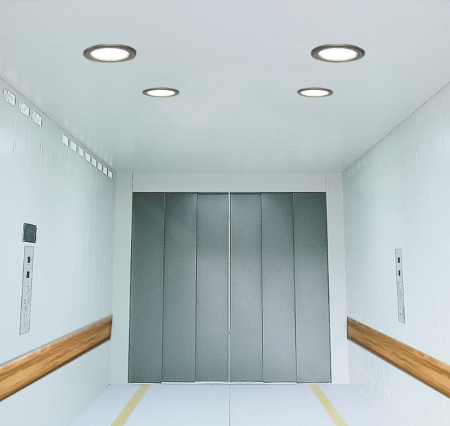 Landing
Landing doors with a paint finish and the operating panel embedded in the doorframe or received on the floor, which can, optionally, include the floor display.
QHV CAR LIFT SPECIFICATIONS
Load: 3500, 4000, 4500, 5000kg
Maximum Travel: 21m
Stops: 4
Car Width: 2400 – 3000mm
Car Depth: 5000 – 6000mm
Car Height: 2200 – 2800mm
Speed: 0.2 – 0.6 m/s
Entrances: single or double (180 degree)
Control: Universal and Duplex (optional)
The ECH car lift is designed for the vertical transportation of vehicles including their occupants.
The installation of this car lift is ideal where construction of an access ramp is not possible in buildings where a garage is present or is planned for use by single or multiple families.
With greater stability that other car lifts the ECH lift can withstand heavier loads and be made up to 3 metres wide.
Cabin
Walls painted with a polyester-epoxy powder coating in light grey RAL 7035 with matching metal protections (or wood as an option).
Grey treadplate flooring.
Lighting using fluorescent bulbs in the upper reinforcements of the side walls.
Double button panel with stop button, emergency lighting, intercom, load indicator and key switch.
Hold-to-run in the cabin with preference of use over landing push buttons.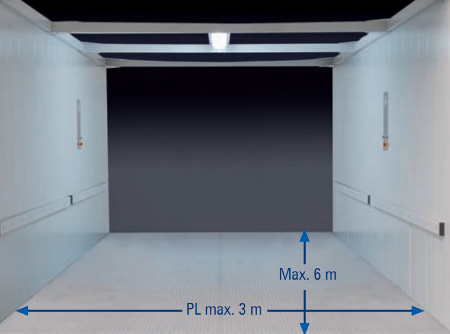 Safety Devices
Lift type rupture valve with EC type certificate.
Re-levelling with open doors, electrical anti-creep system and forwarding to the ground floor.
Automatic rescue: the doors open in the event of a power cut.
Class II photoelectric barrier.
Floor
Automatic slat sliding doors with electric locking. They are stored at the side in the space between the guides and the shaft wall. High-resistance 40mm thick slats.
Button panel with key switch and car busy light indicator. Call remote control (optional).
ECH CAR LIFT SPECIFICATION
Load:                       2000        2500       3000       3500
Surface Area:       10m2      12m2       15m2     17.5m2
Maximum Travel: 7m
Speed: 0.10 m/s
Headroom: 2700mm
Stops: 2 – 3
Pit Depth: 400mm
Shaft Required:
Shaft width = cabin width + 700mm
Shaft depth = cabin depth + 50mm